Certified Field Operations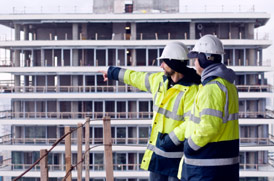 AllTech offers the industry's best field operations support services available. Clients can reach us 24 hours a day, 365 days a year with our Emergency Notification System. All Team Members are pre-screened, interviewed, and appropriately background-checked prior to being accepted in our training orientations.
As part of our client-interview process, you will be asked a series of questions to match the experience of our individual Team Member(s) to your specific need. However, our dedication does not end there. Our quality control procedures require us to actively solicit client feedback on our Team Members' performance. This approach allows us to evaluate the work ethic, skills development, and production objectives of our people. Our Field Operations Group will maintain communication and support of your designate to ensure success throughout the duration of the project.
AllTech is fully committed to the health, safety and general welfare of our employees and the environment. All Team Members are required to participate in our HAZWOPer certification and medical surveillance programs. Our Medical Review Administrator is an authority in environmental health and occupational medicine, with an extensive knowledge of toxicology principles.
We provide qualified professionals in the following areas:
Field Technicians
Regulatory Specialists
Chemical Engineers
Project Managers
Environmental Health Specialists
Industrial Hygienists
Research Chemists
Hydro/Geologists
These Team Members have experience with:
Decontamination
EH&S Standards
Remedial Investigation
Curriculum Delivery
Regulatory Assessment
Containment & Design
Sampling/Chain of Custody
Facility Restoration
Waste Stream Management
Transportation & Packaging
Corporate Offices:
10841 Noel Street, Suite 110
Los Alamitos, California 90720
Toll Free Office Hours:
(888) 231-8400
With satellite operations serving San Jose, Sacramento, San Diego, Phoenix, Albuquerque & the Greater Salt Lake areas.
Compliance Programs